Inclusive and accessible Green Railways in Estonia and Latvia, EE-LV00057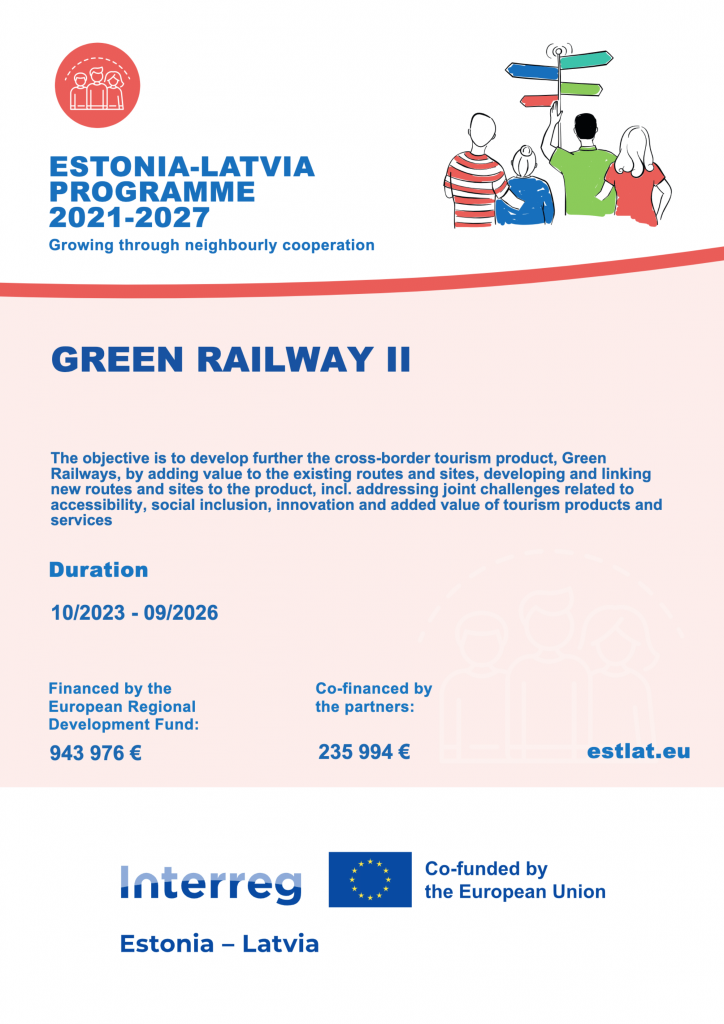 The project aims to address joint challenges related to tourism in the programme area, including accessibility, social inclusion, social innovation, low competitiveness and added value of tourism products and services. The objective of the project to develop further the cross-border tourism product, Green Railways, by adding value to the existing Green Railways routes and sites, and developing and linking new routes and sites to the product.
The project will increase accessibility to the product and related services for different target groups, such as children, parents of young children, the elderly, and people with disabilities, as well as incorporate social participation of different target groups into product and service design process. The project also aims to sustain jobs in tourism and related sectors in regions outside bigger urban settlements and to raise the visibility and competitiveness of tourism offer in the programme area.
The project will produce seven pilot investments based on three trail sections and four sites, with joint solutions developed and tested during that time. The joint solutions (4) will include the creation of new trails, attractions, e-bike solutions, and improved information and educational offerings. In addition, 4 sites will be improved to allow better accessibility to the Green Railways.
The project will address physical, organizational, and emotional accessibility barriers, and will interpret it as a broader concept based on life cycle and not limited to people with disabilities. The project takes a cross-border approach because the Green Railways heritage-based tourism product straddles both EE and LV, and a joint effort is needed to address the challenges related to tourism in the region. The project partners will work together to set new practices and standards for future developments in the region, with a particular focus on accessibility, social innovation and inclusion in the tourism product and service design process.
Project Lead Partner is Latvian Greenways Association, in close cooperation with Kurzeme Planning Region, South-Kurzeme Municipality, Limbaži Municipality, Valmiera Municipality, Gulbene Municipality, Smiltene Municipality and partners in Estonia – Mulgi Municipality, Valga Municipality, Mustvee Municipality, Foundation of Haapsalu and Läänemaa Museums, NGO Estonian Museum Railway
More information about the greenways trails (Green Railways) can be found here