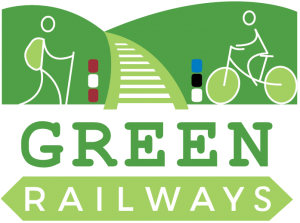 The general aim of the Green Railway project is to create a new non-motorized tourism route for both locals and visitors, using old narrow-gauge railway causeways in South-Estonia and North-Latvia.
Latvian Greenways Association is one of the 24 project partners and during the project will:
Advise on the Greenways-related activities like e.g. Feasibility Study, project branding and design
Lobby the development of Greenways within municipal and State institutions to clarify the land ownership issues
Participate in the project Steering Group meetings and related events
Project partner outputs
Feasibility Study on the Future Greenways development in Vidzeme and South Estonia
Project Website can be found here: www.greenrailways.eu
Project duration is from 01.03.2017 to 30.10.2019 and the total budget of the Project is 1 174 938 EUR, 85% (998 697.36 EUR) is co-financed from Estonia-Latvia programme
Latvian Greenways Association's budget in the project is 23 470 EUR, where 19 949.50 EUR or 85% is is co-financed from Estonia-Latvia programme

This website reflects the views of the author. The managing authority of the programme is not liable for how this information may be used.